We are delighted to announce that we are now able to offer an installation service with the well established company Creed Miles.
After working together on many projects over the recent months we have been impressed with Creed Miles's work ethic, skills and attention to detail. Like Abplas, Creed Miles is a long running family business who pride themselves on their high levels of service and problem-solving skills. Therefore, we are excited about continuing our partnership with them in the future by offering an installation service of our products by Creed Miles.
In recent months we have been working together to make and fit sneeze guards in a variety of offices and businesses. These include Registry Offices, Coroners Courts and Fire Stations. Ongoing our new partnership with Creed Miles will enable us to offer a fitting service for our other products such as our cladding and acrylic signage.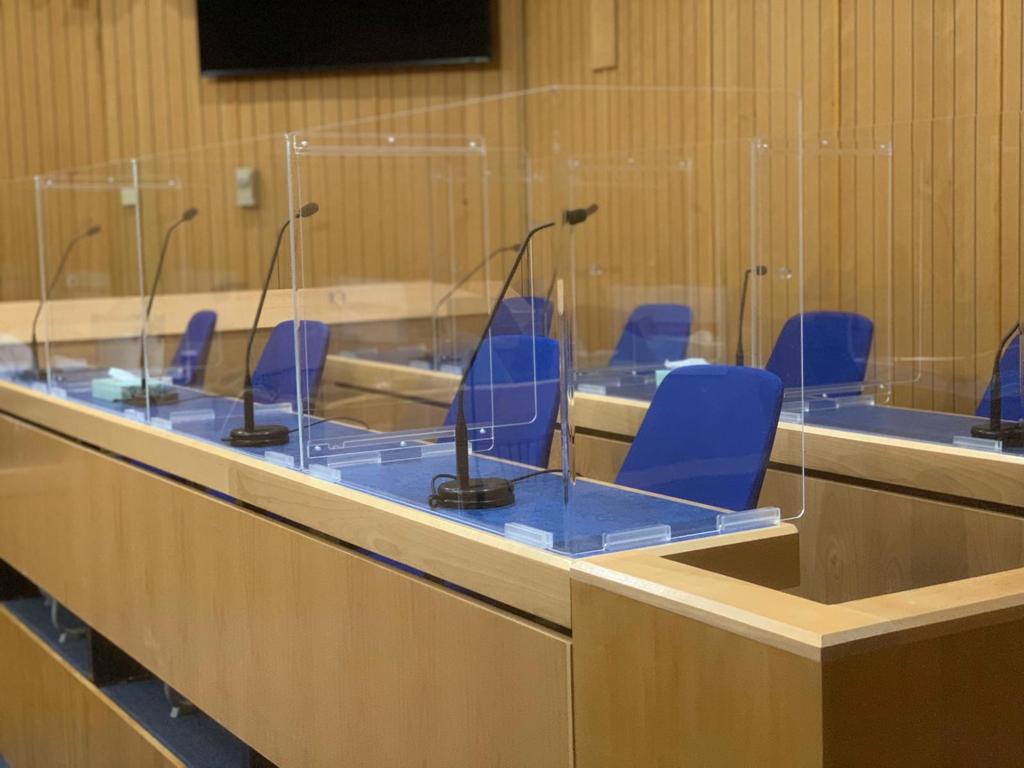 Like Abplas, Creed Miles offer bespoke solutions, so we are very excited about continuing to work together in the future. For example, when we worked together to produce screens for Woking Coroners Court we were required, with Creed Miles, to make and fit screens which were able to extend and retract. The ability to slide out means that people can sit safely with a barrier between them, but will be able to exit the courtroom easily when the screens are pushed back in.
This is what Creed Miles have to say about us:
"Since the outset of the pandemic, Creed-Miles have been working with all different sectors to make businesses safe and operational, to cause minimal disruption. Abplas became a vital partner during this undertaking, as they are able to create bespoke products with ease; allowing us to offer the best possible solution for the client.
One of the more intricate projects we have carried out using Abplas' services, was Woking HM Coroner's Court. It was essential that the court remained operational, so Creed-Miles were instructed by Surrey Country Council to provide a solution without redesigning the courtroom layout entirely. The problem we encountered was that there was very little space to gain access to all the seats, as it's almost like a church pew system. The way we overcame this was to have a bespoke sliding partition screen. This enables people to get to their seats and once there they can close themselves off; creating an individual cubicle and making the area safer for all. To cause minimal disruption to proceedings, we carried out the installation over a weekend, which allowed us to keep contact with others to a minimum.
We have specified Abplas screens solely for one of our large education clients; Abplas have been able to supply us with a large number of different screens in a variety of sizes. Timing was crucial and the fact that we we're installing over multiple sites made the logistics complex. Due to our vast experience, methodical attitude and Apblas' ability to deliver products on time and to a high standard enabled us to easily overcome this.
We have been operating for over 50 years and have a huge amount of experience providing interior solutions for a diverse client base. With this in mind, teaming up with Abplas is a no-brainer; we have an equal eye for detail and a drive to deliver great customer satisfaction."
If you have a project that you think that we can help you with please get in touch https://www.abplas.co.uk/contact-abplas/