Facing another cold winter with no hope of replacing your existing cold and draughty windows? Or huge heating bills as your lovely warm air escapes through the gaps around the glass? Read on to find out about our secondary glazing solutions.
Abplas have been supplying SECONDARY GLAZING solutions for thousands of homes across London for the past 25 years and we may have the answer for your home too.
Our service is:
Easy D.I.Y. installation and removal
Variety of options based on budget and technical ability
Everything you require is supplied, all materials are cut to size and can be delivered if required
Many customers order one small window to see the benefits before installing it throughout their house
Samples are available on request
Simple to quote over the phone or by email
Secondary Glazing – The Facts
Benefits
Reduces Heat Loss
Reduces Fuel Costs
Keeps Rooms Warm All Over
Lowers Noise Penetration
Different Types
We sell 3 different secondary glazing systems; each one has been developed for installation in the home with the minimum of tools and effort to achieve a professional appearance.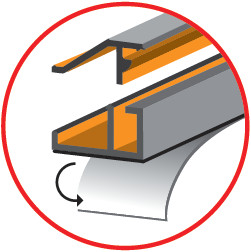 Magnaglaze – Stress-free; if you can use double-sided tape you can use Magnaglaze. A white steel strip with foam adhesive backing is stuck to your window frame and a magnetic strip with foam adhesive backing is stuck to your glazing panel. Bring the two together and hey presto you are finished.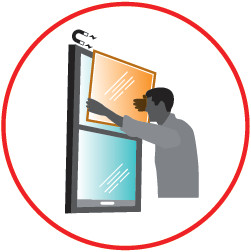 Simpleglaze – Simple and discrete, comprising of two ridged PVC sections. A base section with a foam adhesive back is stuck to your window frame, then put the glazing panel in and use the snap-in cover strip to hold it in place.
Secureglaze – A semi-permanent system using a strong, rigid PVC moulding that surrounds the glazing panel and is then screwed in place.